cghn.nursing.uw.edu
May 24, 2022
Meet T32 Predoc Rodney Perkins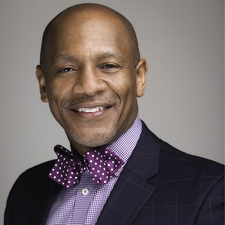 Before post-graduate work, Rodney led the Preexposure Prophylaxis (PrEP) for Her initiative at Mary's Center in Washington, DC. PrEP for Her is a DC collaboration between the DC Department of Health and Washington AIDS Partnership (WAP), the first city-wide program exclusively for women of color. Before taking the position at Mary's Center, he was the director of the Whitman-Walker Health Gay Men's Health and Wellness Clinic (GMHWC), the largest provider of HIV/STI testing, counseling, and treatment services in the nation's capital. Rodney also held a faculty post in the College of Nursing and Allied Health at Howard University, teaching adult and maternal-infant health nursing.
He has a bachelor's and master's degree in nursing from the University of Maryland School of Nursing in Baltimore, MD. He also has a Master's of Public Health degree in Epidemiology from the George Washington University School of Public Health. He is a member of Sigma Theta Tau International Honor Society, Psi at-Large Chapter, and the Association of Nurses in AIDS Care, Puget Sound Chapter.
Nursing & UW
Why did you decide to receive a doctoral degree in nursing?
I chose to receive a doctoral degree in nursing science to prepare me for independent research and investigation of novel questions driven by my own scientific inquiry and through my nursing perspective. Nurse researchers are underrepresented, especially Black males in HIV/STI research. My professional HIV/STI experience and my training as a nurse-scientist will allow me to make unique and meaningful contributions to the field.
What brought you to the Pacific Northwest?
As part of my research to support the PrEP for Her initiative, I discovered an article in the New England Journal of Medicine about the dapivirine vaginal ring to prevent HIV. I was familiar with Jared Baeten's work on PrEP and the University of Washington. I had contemplated attending the UW Principles of STI/HIV Research course, and this article inspired me and sparked interest in PrEP use among sexual gender minorities. My decision to pursue doctoral studies at UW came through email correspondence with Dr. Sara Gimbel in the School of Nursing, who arranged meetings with Drs. Baeten, Dombrowski, and Steckler –the "PrEP rock stars," she called them. I met my current mentor, Dr. Connie Celum, MD, MPH, through these networks.
Research
What is the primary topic for research?
My primary research topic is to understand how pleasure influences doxyPEP use and perceived risk of HIV and STIs among Black, Latinx, and Multiracial (BLM) men who use ARTs for treatment or prevention and how health provider beliefs and attitudes influence doxyPEP prescription practices, accessibility, and uptake.
How did you become interested in this topic? 
My research interests stem from my work to adequately serve the sexual gender minority (SGM) population, given that SGMs are disproportionately affected by HIV and STIs. Biomedical HIV prevention through PrEP and treatment as prevention (TasP) are effective and almost eliminate HIV transmission; however, the uptake among BLM men remains low. My hypothesis for the low uptake is associated with PrEP/TasP implementation strategies targeting Black and Latinx men that were not sensitive to meeting their individualized needs. I would like to understand the experiences of BLM men who use PrEP/TasP to better inform the implementation of biomedical STI prevention tools, such as doxyPEP, with PrEP/TasP to improve uptake among BLM men.
Personal
What's your favorite part of living in the Pacific Northwest? (Alternatively, what do you like to do outside of work & studies?)
My favorite part of living in the Pacific Northwest is the landscape, and I enjoy being surrounded by mountains and water. I also enjoy live theater, all genres of music, cycling, and traveling. To date, I have visited over 30 countries. After graduation, I plan to move to Asia to explore different Asian cultures for the summer. I am interested in learning about other cultures with a particular interest in health and the healing experience. Asia is one of two continents that I have yet to explore.
What's next for you?
After completing my Ph.D., I would like to transition into an academic research position where I can combine clinical practice and research as part of an interdisciplinary team. As an academic faculty member, I would like to train and mentor the next generation of nurse researchers, more specifically, males and people of color, to continue contributing to rigorous research produced by nurses.