cghn.nursing.uw.edu
May 24, 2022
Meet T32 Predoc Deepa Oja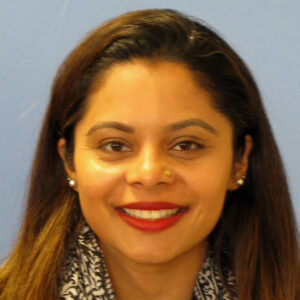 Deepa Oja is from Ithaca, New York and has a bachelor's degree in Biology from Hobart and William Smith colleges in Geneva, New York. She completed her ABSN (2014) and MSN (2017) degrees from Johns Hopkins University and completed my Nurse Practitioner residency from Highland Family Medicine at the University of Rochester Medical Center.  Since then, Deepa has worked as a nurse practitioner at Cornell University, addressing the primary care needs of the older adolescent and young adult population.
Nursing & UW
Why did you decide to receive a doctoral degree in nursing?
University of Washington's strong global health programs, it's world-renowned faculty members who are committed to improving health locally and globally, and its rigorous Nursing science curriculum were the reasons why I chose to come to the University of Washington.
What brought you to the Pacific Northwest?
I came to Pacific Northwest to attend the Ph.D. program at the University of Washington.
Research
What is the primary topic for research?
My research topic is Individual and systems-level factors contributing to non-suppressed viral load among adolescents living with HIV in Kenya.
How did you become interested in this topic?
I have always been interested in working to optimize the health and well-being of adolescents clinically or through research. With regards to HIV, adolescents and young adults make up the growing population of all new HIV infections and have poorer outcomes compared to the adult and pediatric populations. After coming to UW, I was fortunate to join Dr. Pamela Kohler's research study looking at the return of and action on adolescent HIV viral load results in Kenya. While doing this research, I became interested in assessing individual and systems-level facilitators and barriers to viral suppression in order to develop targeted interventions to achieve and maintain viral suppression and optimize wellness for this population.
Personal
What's your favorite part of living in the Pacific Northwest? (Alternatively, what do you like to do outside of work & studies?)
I like to travel and hike.