cghn.nursing.uw.edu
June 12, 2019
Introducing UW Global Rural Health Fellow Krysta Byrnes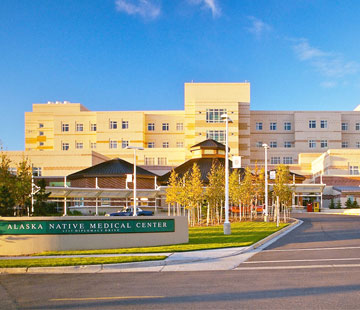 Since the creation of the Center for Global Health Nursing in 2016, Dr. Sarah Gimbel has been working hard together with first Dr. Bob Onders and more recently, Dr. Kyle Pohl from the Alaska Native Tribal Health Consortium (ANTHC) to build a doctoral fellowship opportunity for recent DNP graduates. The Global Rural Health Fellowship (GRHF) was initiated in the Departments of Emergency and Internal Medicine at UW. This unique post-doctoral fellowship specifically for DNP graduates aims to provide recently graduated and licensed nurse practitioners the knowledge, leadership skills and hands-on experiences necessary to become effective leaders, clinicians, managers, and advocates in the field of global and rural health. In turn, Tribal Health Organizations in rural areas of Alaska who work with ANTHC will benefit from increased access to advanced nursing care.
The ANTHC is a non-profit organization which strives to meet the health needs of Alaska Native and American Indian people living in Alaska. ANTHC is the largest, most comprehensive Tribal Health Organization in the United States and Alaska's second-largest health employer with more than 3,000 employees offering an array of health services to people throughout our nation's largest state.
This partnership between the UW Center for Global Health Nursing and ANTHC will allow recent DNP graduates to live in rural Alaska for up to 12-18 months followed an additional 3-6 months in a low middle-income country (LMIC). This fellowship provides clinicians with experience serving vulnerable populations in both rural Alaska and in an LMIC. DNPs undergo a competitive application process which includes interviews with the UW as well as ANTHC coordinators and directors at participating sites in Alaska.
This year, we are excited to announce our first placement in Alaska as part of this fellowship. On August 1st, Dr. Krysta Byrnes (DNP-FNP) will be the first DNP GRHF. Krysta will be spending 12 months working in the Eastern Aleutian Islands with periodic visits to Anchorage for training opportunities including one month at UW in Seattle for a global health course with other clinical fellows. Krysta is "passionate about partnering with patients and communities, empowering them to meet their own goals and to live full, productive, and healthy lives." She was born in Japan within a universal health care system and worked abroad in Vietnam.  She has also worked extensively in rural Washington state. All of these experiences helped shape her worldview that healthcare is a right for all people. After her 12 months in Alaska, she plans to spend time in either Malawi or Peru working to improve clinical capacity in marginalized settings.  Her plans after the GRHF will be to work in primary care and use her experiences to advocate for ways to make the health system work for everyone including the most disenfranchised.